We are Rebranding – Give us a New Name!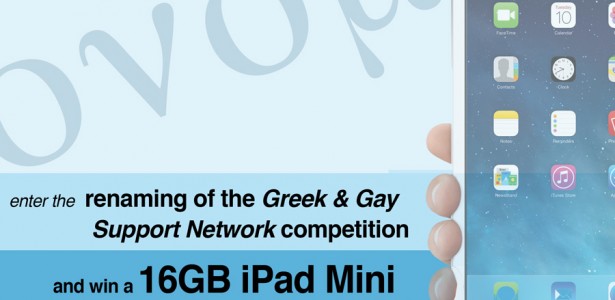 We are Rebranding – Give us a New Name!
"The Greek & Gay Support Network (GGG and GALS) announce
a contest for its members".
Thanks to all who attended the recent Strategic Planning Day, which was a great success.  We found new meaning in our role as committee members and clarified our purpose.
Major outcomes include formulation of a new mission and rebranding initiative to focus our direction, entice a new generation as well as continue support for our existing members.
We are driven by our mission in, "bringing together the Hellenic GLBTIQ community with their family and friends to foster support, awareness, acceptance & understanding".
We need your help in our branding revival and invite all our members to take part in the rebranding of the group as it moves forward in celebration of its 20th anniversary in 2015.
Tap into your creativity and think of a name that captures who we are and our diversity of being Greek, Greek-Australian, Gay or Lesbian.  Give us a new name to replace past names.
To enter the contest, submit an email to newname@greekandgay.com
Submission must be emailed by Friday 31 October 2014 to be eligible for the prize.
_____________________
ENTER THE
RE-NAMING THE GREEK & GAY SUPPORT NETWORK (including GGG and GALS) COMPETITION
GIVE US A NEW NAME AND WIN ONE OF THE PRIZES BELOW
__________________________
16GB iPad Mini
or
Gift Voucher of your choice (upto the value of $400)
_________________________
Submit your entry to
Entries close on Friday 31 October 2014