IMMIGRATE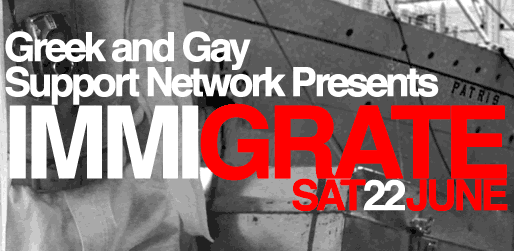 The Greek and Gay Support Network is a support/social group in Melbourne that provides volunteer support to GLBTIQ individuals from a Hellenic background. The Network comprises the guys group (GGG – Greek and Gay Group) and the girls group (GALS – Greek Australian Lesbians). We meet each month at the Victorian Aids Council to assist guys and girls that need a safe place to discuss the issues affecting their sexuality specifically in relation to their Hellenic background.
2013 sees the guys celebrate their 18th birthday and the girls their 11th. Each year we come together to celebrate our achievements as only Greeks know how – with dancing, partying and entertainment. Our annual birthday parties have always been a huge success with both the GLBTIQ and Greek communities and this year we aim to make it bigger and better.
This year we want to celebrate our families' migration to Australia whether that be our parents, grandparents or even great grandparents. The 1950's and 1960's were the years when thousands of Greeks travelled for  almost a month to come to this country for a better life for themselves and their children. Many of the arrivals into Melbourne were greeted at Station Pier and to celebrate their arrival we are holding the 2013 event at S6 on Station Pier, Port Melbourne. In addition we would like to celebrate the next wave of immigrants that are arriving now to again improve their lives in the same way that prior generations did.
Australia and Melbourne in particular have been built on the hard work of all migrants and the Greeks played an important role in enriching Melbourne's Cultural Diversity. From factory workers, professionals, trades persons, artists, politicians, educators, academics and business proprietors, the contribution cannot be forgotten and must be celebrated.
All proceeds from this event are used to support the activities of the Network (as we are totally self-funded) and these include our presence at Midsumma Carnival, Pride March Victoria, Chillout Carnival, Administration costs and other events for members and friends.
We therefore welcome everyone to celebrate with us at our 2013 party:
IMMIGRATE (eime-great)
Saturday 22nd June 2013, 9pm till late
S6 – Spirit Station Pier
6 Waterfront Place, Port Melbourne
Entry is $20 and includes ouzo shot on arrival, prizes, stage shows, the latest and traditional Greek sounds presented by DJ Diamond and DJ Athens.